What will your Child learn?
This course helps children develop great number skills using India's ancient Vedic mathematics principles. They not only learn specific principles, but also how to apply them in their academic pursuits.
Mental Calculations

Speed and efficiency in Oral Calculations

Number Patterns and Relationships

Mental Agility and Memory Enhancement

Applications in Real-life Scenarios

Trained by Internationally Certified Vedic Maths Trainer

Request More Information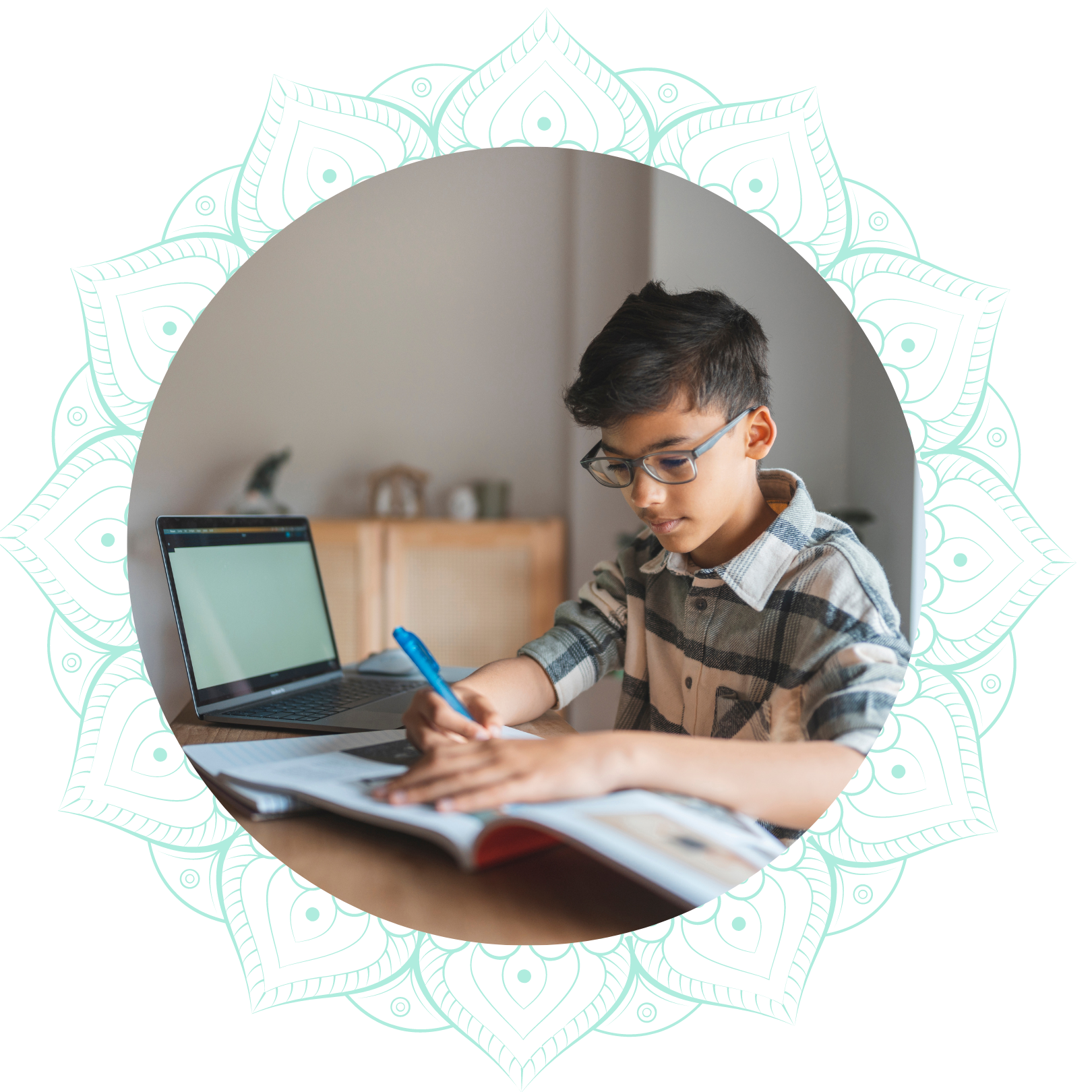 This program offers a unique blend of classroom learning, mobile app-based education, practical exercises, projects, and complete immersion into Vedic mathematics principles.
It connects classroom lessons with real-life applications of Vedic mathematics, ranging from arithmetic operations like division and multiplication, to factorization, exponents and roots.
The program harnesses the groundbreaking techniques found in Vedic scriptures, transforming the way children perceive and understand mathematics. It's not just about solving numbers; it's about nurturing problem-solving skills and boosting mental agility. It's an excellent tool to elevate understanding, promote creativity in mathematical thinking, and above all, make maths enjoyable.
Courses start for children of grade 3 onwards. Children will learn World's Fastest Mental Maths System, System Based on 16 Sutras and will also learn practical applications of these concepts to the Maths they learn in the classroom.
Live Sessions on Zoom

Maximum 15 Student Batch Size

Get Certification upon Completion

Assessments & Tasks

Get Session Recordings for 1 Year and downloadable resources.
FAQ
Frequently Asked Questions
If you have any questions not answered in the FAQ, please do not hesitate to book a call with us.
Courses start for children of Grade 3 onwards.
Unlock the power of ancient wisdom with our Vedic Mathematics program! Designed specifically for middle-school students, this program harnesses the groundbreaking techniques found in Vedic scriptures, transforming the way children perceive and understand mathematics. The course is very hands-on and will involve children in learning to do computations quickly through practical exercises and examples.
Students will be provided with recordings of the Live sessions along with downloadable worksheets.
Yes, the program will include practical hands-on exercises and activities to reinforce concepts.
The instructor, Ruchi Bansal, is an internationally certified Vedic Maths Trainer. She has a B.Tech degree and has been in the teaching field for over 17 years. She has also trained sevral other Vedic Maths teachers, besides teaching hundreds of students directly.
The course is priced at Rs. 2999. Connect with us to see if there are any ongoing offers. You may also go to "Enroll Now" to check for any discounted offers available.
Yes, all the session recordings and worksheets will be available to the students for a period of one year post the completion of the course.
All the sessions will be LIVE online via Zoom. The course is highly interactive and the students will have the opportunity to learn several hands-on techniques with the instructor.